Sea Trials Transit
Daily Science Report for 15 February 2009
LOCATION: On Site U1330 (northern Ontong Java Plateau)

SCIENCE UPDATE: The Readiness Assessment Committee continued to familiarize themselves with and evaluate the shipboard software applications and analytical systems while USIO internal acceptance testing continued in parallel. Drilling operations encompassed pulling out of Hole 807C after an unsuccessful re-entry, visual inspection of the drill collars, and preparing for rotary drilling (RCB) a new hole. Hole U1330A was spudded at 1355 hr establishing a seafloor depth of 2805 mbsl. The top 100 m of sediment were drilled without coring and a wash barrel (320T-U1330A-1W) was recovered. RCB coring of the following ~20 m yielded the first two cores of Expedition 320T (U1330A-2R and 3R) containing a total of 16.09 m (84% recovery). Sediments consisted of nannofossil ooze with foraminifers of an estimated early Pliocene age based on foraminifera biostratigraphy. All expedition participants celebrated the historic recovery of the first cores of IODP-USIO phase two operations.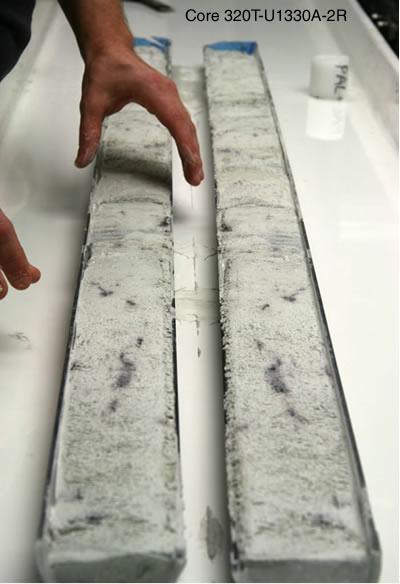 See detailed transit map
---
Ship highlight of the day: P-wave Velocity & Shear Strength



| | |
| --- | --- |
| The gantry takes contact-based P-wave velocity measurements that vary with the lithology, porosity, density, state of stress, fracturing, and lithification of the material and the presence of gas. | |
| The gantry also takes shear strength measurements that are an indicator of relative sediment strength and slope stability. | |
See iodp.tamu.edu/labs/ship.html for more details on the ship's new laboratories.

[an error occurred while processing this directive]

Modified on Wednesday, 18-Feb-2009 08:58:25 CST.