Samples

/

MRC Collections
Micropaleontological Reference Centers (MRCs)
MRC Collections
Introduction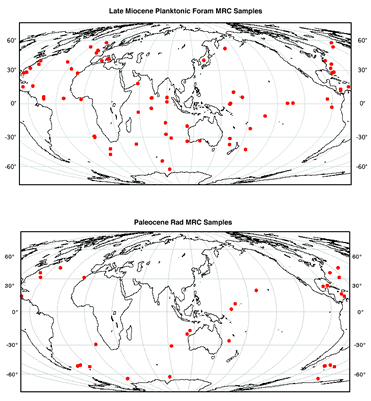 The scope of the MRC collections is global, with ca 5,000 prepared samples for each of the four fossil groups held (planktonic foraminifera, calcareous nannofossils, diatoms and radiolaria—see detailed list of maps by age and fossil group). Samples range in age back to the Jurassic, although older geologic intervals are relatively rare (see Recovery figure below). The MRC collections closely reflect the overall pattern of recovery by the DSDP and ODP projects, which in turn reflect primary patterns of microfossil and sediment preservation through time.
In addition to the identical main collections, individual MRCs can host other special collections. The first of these is the radiolarian slide collection of Dr. Nick Pisias, of Oregon State University. This collection contains slides from nearly 17,000 primary samples, and includes surface sediments, high-resolution Quaternary time-series, deep-sea drilling sites (DSDP and ODP), plus a few water column samples. This collection is curated at the Full MRC in Japan (National Science Museum). A listing of the slides can be downloaded from the Download MRC database lists link. For information on use, please contact the curator given for the Japan Museum on the Host Institutions page.
Database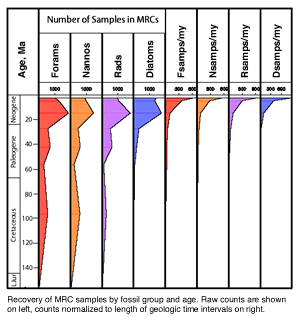 A full listing of the prepared samples held by the MRCs is available for download as a tab-delimited text file. This file is regularly updated from the MRC master database in Berlin. In addition to sample name, basic descriptive ages, fossil group abundance and preservation information is provided.
NEPTUNE
The MRCs do not provide information about the distribution of individual species of microfossils in their collections. Researchers wishing to discover what is known about individual taxa distributions in deep-sea drilling samples can consult the NEPTUNE database of DSDP-ODP microfossil occurrence data at CHRONOS.