Expeditions

/

Expedition Schedule
IODP Expedition Schedule for the JOIDES Resolution
For information on expeditions operated by CDEX (Japan) and ESO (Europe), please see the IODP Science Office.
Reports from current expedition • Completed expeditions • Expedition pages
Notes:
1 Dates for expeditions may be adjusted pending non-IODP activities.
2 The start date reflects the initial port call day. The vessel will sail when ready.
3 Transit total is the estimated transit to and from port call and does not include transit between sites.
4 Also includes Proposal 693-APL, South Chamorro Seamount CORK.
5 Complementary Project Proposal (CPP) contingent on substantial financial contribution outside of normal IODP funding.
6 Combined expedition with 841 APL and LWD from Proposal 781A (Expedition 375).
PDF Download International Ocean Discovery Program expedition map in PDF format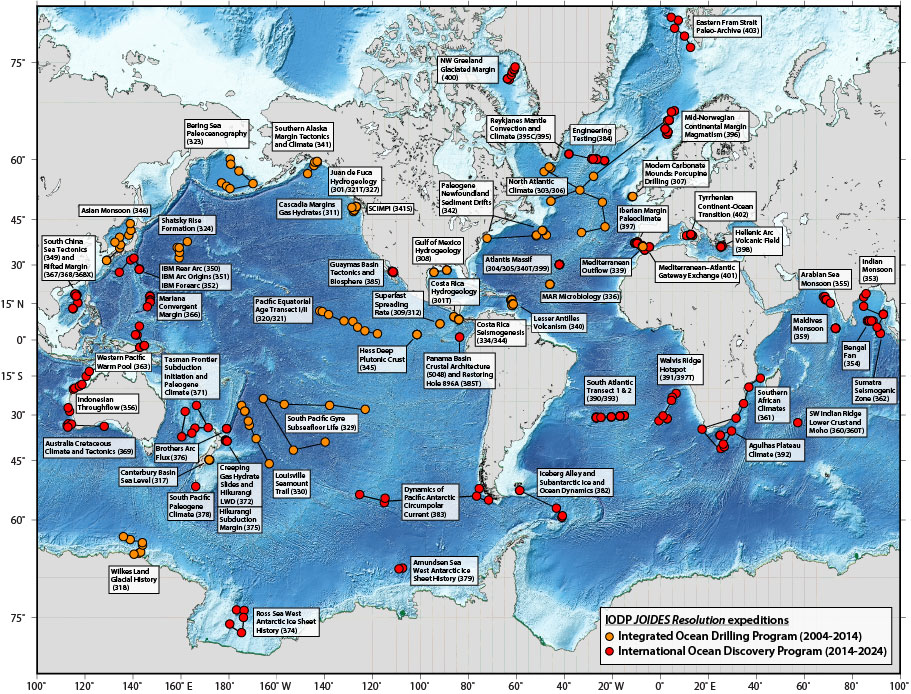 PDF Download combined International Ocean Discovery Program and Integrated Ocean Drilling Program map in PDF format
Who is Eligible to Sail?
Participation in IODP expeditions is open to all scientists from IODP's member countries.
Applications must be submitted via each country's or consortium's program office.