Expeditions

/

Expedition Schedule
IODP Expedition Schedule for the JOIDES Resolution
For information on expeditions operated by CDEX (Chikyu; Japan) and ESO (mission-specific platforms; Europe), please see the IODP Science Office.
Expedition Name
(see map)
Exp #
Ports
(start/end; travel info)
Dates1,2
Total days
(port /sea)
Days at sea3
(transit /ops)
Co-Chief
Scientists
JRSO Contact
(Staff Scientist)
Australia Cretaceous Climate and Tectonics
369
Hobart
to Fremantle, Australia
26 September–
26 November 2017
61 (5/56)
7/49
B. Huber
R. Hobbs
K. Bogus
Creeping Gas Hydrate Slides and Hikurangi LWD5
372
Fremantle, Australia
to Lyttelton, New Zealand
26 November 2017–
4 January 2018
39 (5/34)
15/19
I. Pecher
P. Barnes
L. LeVay
Ross Sea West Antarctic Ice Sheet History


Special call for U.S.-based paleomagnetist; apply by 12 October 2017

374
Lyttelton
to Lyttelton, New Zealand
4 January–
8 March 2018
63 (5/58)
16/42
R. McKay
L. De Santis
D. Kulhanek
Hikurangi Subduction Margin
375
Lyttelton
to Auckland, New Zealand
8 March–
5 May 2018
58 (5/53)
2/51
D. Saffer
L. Wallace
K. Petronotis
Brothers Arc Flux

376
Auckland
to Auckland, New Zealand
5 May–
5 July 2018
61 (5/56)
2/54
C. de Ronde
S. Humphris
T. Höfig
Non-IODP/Transit
5 July to 14 October 2018 (101 days)
South Pacific Paleogene Climate
378
Lyttelton, New Zealand
to Papeete, Tahiti
14 October–
14 December 2018
61 (4/57)
11/46
D. Thomas
U. Röhl
L. Childress
JR100 (Transit)
14 December 2018 to 18 January 2019 (35 days)
M. Malone
Amundsen Sea West Antarctic Ice Sheet History


Apply to sail by 15 October 2017

379
Punta Arenas
to Punta Arenas, Chile
18 January–
20 March 2019
61 (5/56)
12/44
K. Gohl
J. Wellner
A. Klaus
Iceberg Alley Paleoceanography & South Falkland Slope Drift6


Apply to sail by 15 October 2017

382
TBD
20 March–
May 2019
TBD
TBD
M. Weber
TBD
T. Williams
Dynamics of Pacific Antarctic Circumpolar Current
383
TBD
May–
July 2019
TBD
TBD
TBD
C. Alvarez Zarikian
Panama Basin Crustal Architecture (504B) & Engineering Testing7
384
TBD
July–
September 2019
TBD
TBD
TBD
P. Blum
Guaymas Basin Tectonics and Biosphere
385
TBD
September–
November 2019
TBD
TBD
TBD
T. Höfig
Non-IODP/Transit
November 2019 to January 2020
Gulf of Mexico Methane Hydrate4
386
TBD
January–
March 2020
TBD
TBD
TBD
L. LeVay
South Atlantic expedition TBD
387
TBD
March–
May 2020
TBD
TBD
TBD
TBD
Notes:
1 Dates for expeditions may be adjusted pending non-IODP activities.
2 The start date reflects the initial port call day. The vessel will sail when ready.
3 Transit total is the estimated transit to and from port call and does not include transit between sites.
4 Complementary Project Proposal (CPP) contingent on substantial financial contribution outside of normal IODP funding.
5 Combined expedition with 841 APL and LWD from Proposal 781A (Expedition 375).
6 Combined expedition with 846 APL.
7 Combined expedition with 769 APL and engineering testing.
PDF Download International Ocean Discovery Program expedition map in PDF format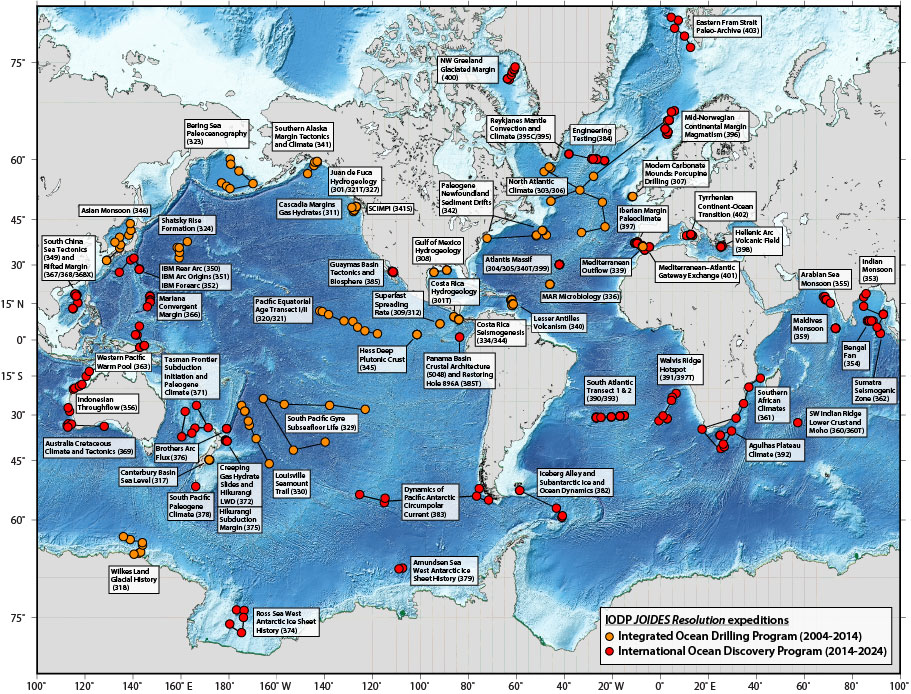 PDF Download combined International Ocean Discovery Program and Integrated Ocean Drilling Program map in PDF format
Who is Eligible to Sail?
Participation in IODP expeditions is open to all scientists from IODP's member countries.
Applications must be submitted via each country's or consortium's program office.