Contact Us

/

Dr. Trevor Williams
Dr. Trevor Williams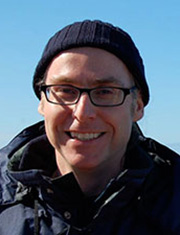 Expedition Project Manager/Staff Scientist
International Ocean Discovery Program
Texas A&M University
1000 Discovery Drive
College Station, Texas 77845-9547
Phone: (979) 458-3230
williams@iodp.tamu.edu
IODP Expeditions & Activities
Science lead for Geophysics LWG (2019–)
Previous Sailing
ODP Activities
Research
Antarctic climate and ice history: provenance of iceberg-rafted debris and glacially eroded sediment; ice sheet instability under past warm climates; sea level change; Antarctic subglacial geology.
Ocean drilling: the use of downhole geophysical logs and physical properties of marine sediment cores for insight into paleoceanography, stratigraphy, and cyclicity; linking borehole data to seismic profiles; downhole magnetic logging for magnetostratigraphy.
Warm climates of the Cretaceous and Eocene: ocean anoxic events; chert formation; long-term climate change.