Expeditions

/

IODP Site Map Poster
This map is based on a color-shaded relief map produced by the National Oceanic and Atmospheric Administration (NOAA) National Centers for Environmental Information (NEIC, previously NGDC). The following text explaining the history of the program is included on the poster.
THE INTEGRATED OCEAN DRILLING PROGRAM (IODP), the third international marine research drilling program, began in 2003 and is dedicated to advancing scientific understanding of Earth processes by sampling and observing subseafloor environments using novel sensors and experimental techniques. Today scientists are expanding deep-sea research by using multiple drilling platforms to explore IODP's principal themes: the deep biosphere, environmental change, and solid earth cycles. IODP drilling platforms are operated by the JOI Alliance (Joint Oceanographic Institutions, Inc., Texas A&M University, and Lamont-Doherty Earth Observatory of Columbia University), Japan's Center for Deep Earth Exploration, and the European Consortium for Ocean Research Drilling (ECORD). IODP's initial 10-year, $1.5 billion program is supported by two lead agencies, the U.S. National Science Foundation (NSF) and Japan's Ministry of Education, Culture, Sports, Science, and Technology, as well as by ECORD, The People's Republic of China Ministry of Science and Technology, and the Interim Asian Consortium.
Download 46 × 35 inch poster (PDF; 5 Mb)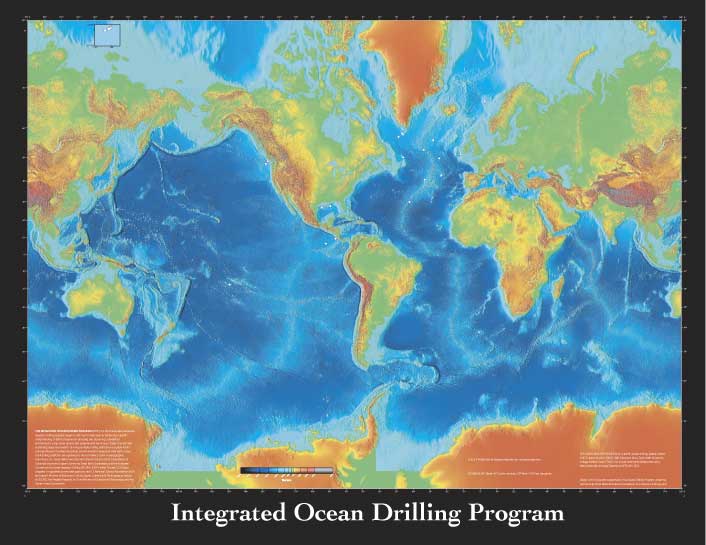 For additional information on scientific ocean drilling, please contact:
JRSO Science Services
Texas A&M University
1000 Discovery Drive
College Station TX 77845
USA
information@iodp.tamu.edu
http://iodp.tamu.edu/
Tel: (979) 845-2673