Scientific Ocean Drilling Vessel
Downhole Measurements Laboratory
See Laboratory Manuals, Guides, and Resources for Downhole Logging.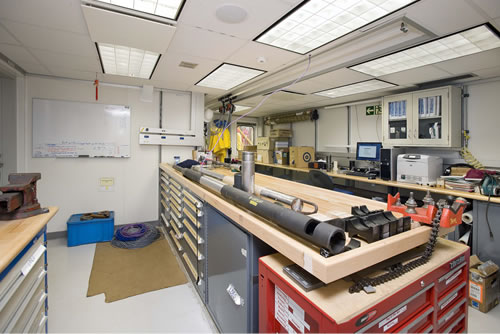 Function
Sediment and rock cores recovered during IODP expeditions provide key data to interpret the geology and biology of the subseafloor environment. However, core recovery is not always complete. In addition, core samples brought to the surface are not at their original conditions of temperature and pressure. Downhole measurements complement core sample analyses and are vital for obtaining continuous and/or in situ records of subseafloor ephemeral formation properties.
The Downhole Measurements laboratory is used as a staging and data acquisition area for several types of downhole measurements, including those taken by tools deployed on the drill string/coring cable and on a standard 7-conductor logging cable (or "wireline").
The IODP JRSO utilizes three main kinds of downhole measurements: well logs, formation testers and samplers, and long-term borehole observatories. The laboratory has the equipment necessary to measure a variety of physical, chemical, and structural properties, including the natural radioactivity, density, electrical resistivity, porosity, permeability, and temperature of the formation. In addition, there is equipment for measuring formation properties and collecting downhole fluid samples from the borehole and from the formation.
Instruments
Advanced Piston Corer Temperature (APCT-3)
Sediment Temperature Tool (SET; has replaced the DVTP)
Water Sampling Temperature Probe (WSTP)
Please note that proprietary manuals may be available upon request and subject to limited use

Logging While Drilling (LWD)
Equipment
Telemetry Lab Computers
LDEO PC-based Data Acquisition Computer (DAQ)
Schlumberger Wireline PC-based MAXIS Data Acquisition & Processing System
Schlumberger Transportable Wellsite Information System (TWIS) [LWD legs]
Logging Workstations
Two workstations with Schlumberger PETREL and TECHLOG for wireline logging data processing
Infrastructure
Wireline heave compensation system near the rig floor
Permanent wireline rig-up reducing operational time and adding flexibility of use
Schlumberger wireline and LWD data acquisition units on the Core deck
Dual elevator system for efficient handling of 6⅝″ drill pipe used for drilling and deployment of larger diameter logging tools
Pipe rackers that can carry up to 10,887 meters of 5" pipe or 5,644 meters of 6⅝″ pipe for drilling and logging